--
Terug naar hoofdpagina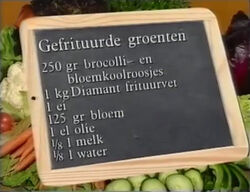 In Wat Eten We Vandaag? laat een kok zien hoe je wisselende gerechten kunt klaarmaken.
In de nieuwe versie kookt Caspar Burgi elke dag een recept in de keuken. Het koken is niet langer een kort onderdeel maar in delen verspreid over de hele uitzending en daardoor in 'real-time': de kijker thuis doet net zo lang over het koken als Caspar in de uitzending.
Ad blocker interference detected!
Wikia is a free-to-use site that makes money from advertising. We have a modified experience for viewers using ad blockers

Wikia is not accessible if you've made further modifications. Remove the custom ad blocker rule(s) and the page will load as expected.