--
Terug naar hoofdpagina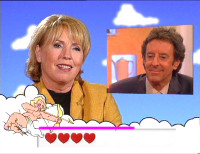 In de liefdestest wordt de kennis van man en vrouw getest binnen het huwelijk.
Doe mee aan de liefdestest
1. Op welke dag was jullie trouwdatum?
2. Welke maat ondergoed heeft jouw partner?
3. Welk eten lust jouw partner absoluut niet?
4. Welk cijfer geeft jouw partner je op het gebied van romantische cadeaus en verrassingen?
5. Welke muziek luistert jouw partner graag?
6. Hoeveel ex'en heeft jouw partner voor jou gehad?

Ad blocker interference detected!
Wikia is a free-to-use site that makes money from advertising. We have a modified experience for viewers using ad blockers

Wikia is not accessible if you've made further modifications. Remove the custom ad blocker rule(s) and the page will load as expected.